God has given us a vision to equip leaders to plant five million dynamic churches to reach the world for Christ.
Our mission is to find and train leaders to plant dynamic churches. We equip those leaders to teach others how to plant reproductive churches.
Our partnerships with church planting leaders around the world exponentially increases the number of leaders trained and puts the vision, leadership and stewardship for training church planters in the hands of indigenous leaders in their own church planting networks.
These leaders train church planters in places we can't go to reach their own countries and the nations around them.
Leaders around the world tell their story about DCPI.
DCPI distinctives bring worldwide favor and fruitfulness.
Biblically Principled
Our training is founded on principles of church planting distilled from the word of God, and not on models of planting churches.
Biblically Principled
The best foundation to provide churches and church planters is the Word of God. These principles will apply to the house church on the Mongolian Steppe and the new mega-church in Texas. What better foundation to build training on than Bible?
Free of Charge
We remove the financial barrier that keeps church planting leaders from essential training by providing training free of charge.
Free of Charge
Training is not free. Someone has provided the resources to develop and deliver the content. Kingdom-minded individuals generously provide finances so that we are able to deliver the necessary training without charge to church-planting leaders around the world.
Multiplying Trainers
We seek to be true to the model that Jesus gave us to equip, empower, and send out Kingdom multipliers.
Multiplying Trainers
DCPI's multiplication strategy is what has turned our mission into a movement. Our simple and intentional appointment of Certified Trainers, Master Trainers, and Senior Master Trainers extends the impact of DCPI to the far corners of the world.
Our Strategy to Bring Jesus to Every Nation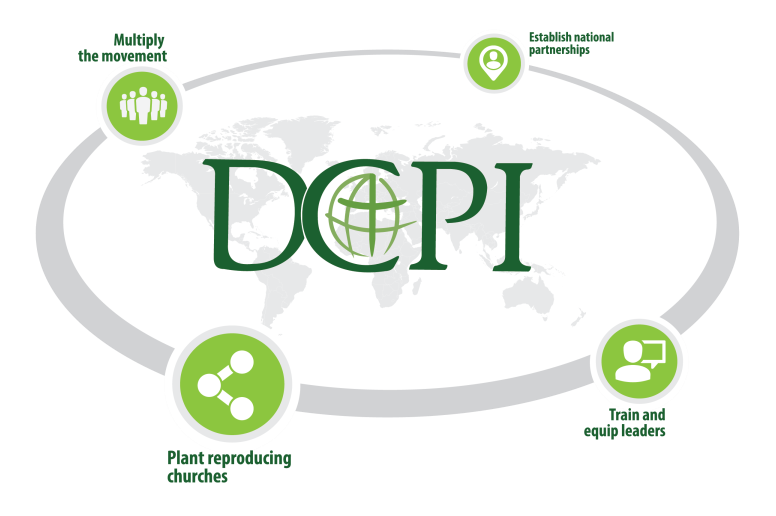 Our DNA shows our core values.
Quality over Quantity

We believe that multiplying qualified reproductive trainers and leaders is more essential than training a crowd.

Practical Application

We believe that a written and verbal project makes the training come to life, and must be done by every student, in every training event.

Indigenous Leadership

We believe it is crucial to empower indigenous leaders.

Team Teaching

We believe in a team approach to provide high quality church planting training.

Give and it Will be Given

We believe in a "Give and it shall be given" approach to personal support and national funding.
Cooperation

We believe in working with all leaders who are Bible-teaching and Christ-centered.

Kingdom Focus

We believe in focusing on the growth of God's Kingdom worldwide through church planting, evangelism and discipleship.

Accountability

We believe that if you are not reporting, you are not a DCPI trainer or leader.

Envisioning

We believe in completing a God-given vision and expanding the church planting visions of others.

Leader of Leaders

We look for, work through, and develop apostolic style leaders, who can significantly influence entire regions and the whole world for Christ.
Our Mission:


Equipping leaders to plant five million dynamic churches to reach the world for Christ.