Woman Plants Hundreds of Churches by Motorbike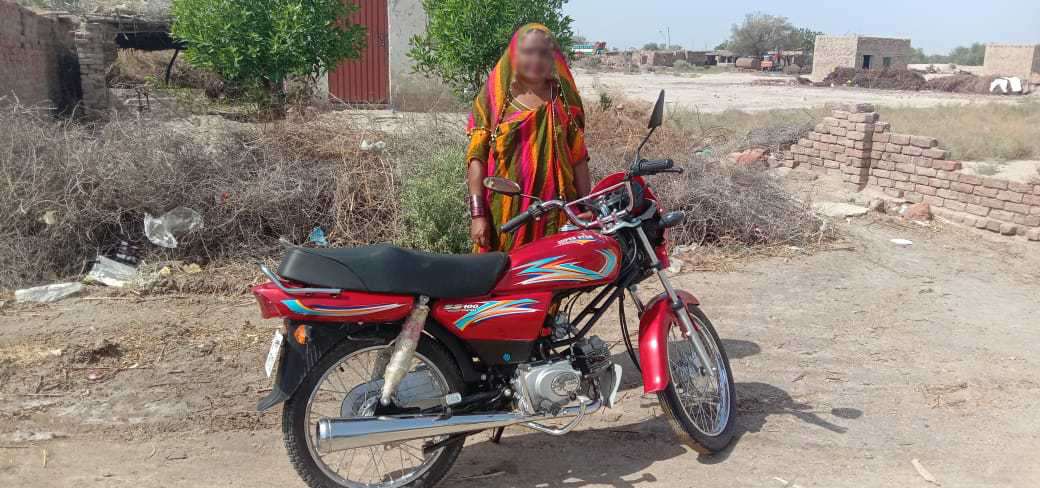 In the vibrant heart of Sindh, Pakistan, God has started a revolution, turning many hearts to Jesus and gathering believers into house churches throughout the nation. In the middle of a sweltering desert and a culture centered around Islam and Hinduism, one woman's extraordinary faith is making ripples that echo all over her country. We call her Miriam, and she single-handedly started a house church planting movement throughout Pakistan, all without transportation!
In the early days after Miriam and her husband were trained in DCPI House Church Planting, she and her husband traversed the arid landscape on foot. Their desire was to share the Gospel with as many people as they could and start house churches in every community. Amazingly, Miriam was able to plant 20 house churches just by walking from village to village! Then, God provided a bike for her, and they continued planting more churches. Though their faith was great, their reach was limited by the distance their bike wheels could carry them.
Feeling a desire to go farther, Miriam told DCPI leaders, God has done amazing things, but I could plant 250 house churches, if I only had a motorbike.
Generous donors supplied a motorbike for Miriam, and their ministry took off like a wildfire! Suddenly, the expanse of Sindh was no longer an insurmountable challenge. Miriam could easily get to the surrounding villages to share the Good News!
If you ask Miriam to tell you what is happening in Pakistan, she will tell you about a "double harvest," a story of an unexpected spiritual awakening. In one village, she found herself surrounded by families who had never heard of Jesus. Recognizing their spiritual hunger, Miriam wove tales of faith, miracles, and redemption together over several days. They continued the conversation about God for the duration of her visit, as she planted seeds about Jesus in the hearts of these villagers. The result was a dual bounty  a physical harvest of food and a spiritual harvest of new believers. Three families believed in Jesus and they joined together in a house church, planted in the fertile ground of Miriams love for God.
In another village, her daughter married a man from the Marwadi tribe, which was largely a Hindu community. Her daughter's marriage presented an opportunity to share the gospel with her new in-laws. Miriam was relentless. Each visit to her daughter opened up a chance to share Jesus teachings.
Her perseverance paid off. Touched by the crucifixion story, four families decided to follow Jesus. Miriam planted a house church among the Marwadi tribe, a testament to her tenacity and Gods love for every tribe and people. These families were now not just unified by marriage but also by their faith in Jesus Christ.
At DCPI, we believe that indigenous leaders are always more effective than Americans at reaching their communities, and Miriam's story makes this abundantly clear! She can go places where Americans would be ineffective or distracting. She has smaller cultural and societal barriers to cross, and her call from God is to reach the people of Pakistan. As we look at our unreached and unengaged people groups (UUPG) around the world, we praise God for His work through people like Miriam.
Would you join us in praying for Miriam to continue to have unwavering faith and ceaseless dedication? Pray with us for changed lives and a robust Christian community in the heart of Sindh, Pakistan. Pray, also, for more funds to train leaders like Miriam to start house churches in every people group in Pakistan and beyond.
If you would like to give to train more people in Pakistan and the other North African, Middle East, and STAN countries, you can give at dcpi.org/give-NAMES.