Ukraine Receives Love from DCPI Churches [Story]
The war in Ukraine has been on all of our hearts and minds throughout the past couple months, and we are excited to share an update with you about DCPI-trained leaders in Ukraine and the surrounding countries. 
DCPI's Director of Partnerships out of our European world zone, Stephany West, recently shared with our team at headquarters a snapshot of the outreach that is taking place all across Europe for Ukranians seeking aid and refuge during this difficult time. She shared…
"I can say that almost every leader from Europe has been involved in some way with the ongoing situation in Ukraine. Everyone I have spoken with has taken up offerings and sent money. There have also been numerous reports of DCPI trainers gathering materials through their individual church ministries and then loading up trucks and driving down to the border or into Ukraine.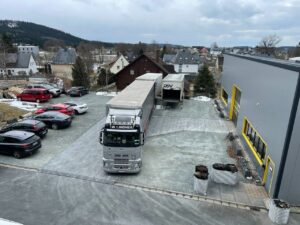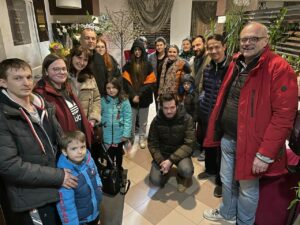 DCPI Master trainer, Gerhard as an example has been helping receive refugees in Germany, and he is using one of his businesses that has bigger trucks to take resources down to the area and then helped get out some of his Ukrainian contacts and others from their communities. His church is working around the clock to help feed and house refugees as they are traveling. He has even been recognized and interviewed on the news in Germany for his efforts to help in Ukraine.
Many other DCPI leaders in the surrounding countries in Europe have received Ukrainians as refugees into their communities and are plugging them into their churches and providing them with resources.
A local example is here in Trostberg at Robert's church, the DCPI World Zone leader for Europe. Our team here recently renovated the youth room and one of the offices into housing for refugees. Through this we are able to house 2 families (a total of 16 people). These refugees are now members of our church family and are able to attend services with messages being translated into Ukrainian. 
Our team of leaders in combination with the city has set up a location in one of our church-owned buildings to gather clothing to provide to fleeing refugees that have lost or left items behind during their escape. 
We have been collecting donations to help the Ukrainians and sending money to a few of DCPI's Certified Trainers that remain in Ukraine and are serving from there as well as to other churches that are in need."
These are just a few of the ways that DCPI's European team is coming together in support of their Ukrainian neighbors. It is a true testament to the importance of the church during times of crisis. 
Has your heart been stirred by hearing the struggle and hardship that the people of Ukraine are currently facing? How is God calling you to come alongside these families in need to show your support and the love of Christ? Click here to donate directly to the outreach and relief that our DCPI Europe team is doing for Ukraine.